Here's an argument I'm having with Fish. Actually it's two related arguments. I thought I'd poll the experts (this means you, lovely readers). Here's the set up:
Fish: so joe and I are arguing whether you get to see Beckinsalebreasts in Underworld 2
Fish: I told him no because I would have heard about it
Fish: but he is adamant
PGS DenMILF: WHAT?
PGS DenMILF: are you talking about
PGS DenMILF: oh wait
PGS DenMILF: Kate Beckinsale's tits?
Fish: yeah
Fish: Joe says yes, I say no, only you have seen it so we need to know
Fish: titties or no titties
PGS DenMILF: you're both right
PGS DenMILF: you see them, but you don't see any nip
Fish: oh
Fish: so thats a no
Fish: I win
PGS DenMILF: no it isn't
Fish: yeah it is... nipple = nudity... breast = provocative
PGS DenMILF: there's a part where michael is unzipping her catsuit
PGS DenMILF: you see the outline of her breast. it is HOT
PGS DenMILF: you see a full body shot of two naked people, head to toe
PGS DenMILF: but somehow all their naughty parts are covered
PGS DenMILF: they kept zooming in on her stomach
PGS DenMILF: it was hot
Fish: I don't jerk off to outlines
Fish: so it isn't nudity
Fish: sorry
Fish: in the end, its a tease
PGS DenMILF: ok, so you've never jerked off to a girl that was dressed
Fish: not that I recall
PGS DenMILF: that's effed up
PGS DenMILF: Kate Beckinsale wearing the cat suit is not masturbatory material
PGS DenMILF: that's what you're saying
Fish: for me?
Fish: no
Fish: society has taught me that nipples are the difference between a PG-13 and R rating (except for a few instances) so they must be special... not as special as a crotch shot which guarantees an R
Fish: its the difference between maxim and playboy
Fish: between USA up all Night and Skinimax
Fish: as you can see... these aren't my rules
PGS DenMILF: But my argument is that both Maxim and Playboy are provacative
Fish: the original question is does K.B. get naked (aka nude) and, the answer, is no
PGS DenMILF: The rule is, if you have NO CLOTHES ON you are naked
PGS DenMILF: The answer is YES because she's not wearing any clothes!
Fish: No
PGS DenMILF: some dude on top of you humping you does not qualify as clothes!
Fish: no nipple, no jerkoff, no deal
Fish: that's how we roll
PGS DenMILF: i think that's just how YOU roll
PGS DenMILF: if you're at a strip club, and the stripper is topless, but she has pasties on, you're saying you haven't seen her breasts
Fish: yes
It went on like that, but you get the point. The two arguments are:
1. Do you have to see nipple (pubes, dick, etc.) to qualify as naked?
2. Do men only masturbate to images of naked women, or do women dressed provacatively work as well?
And since it's my blog and I don't have to play fair: Fish is saying that none of my readers are going to masturbate to this image of Hot Heather licking my boobs just because I am wearing a corset: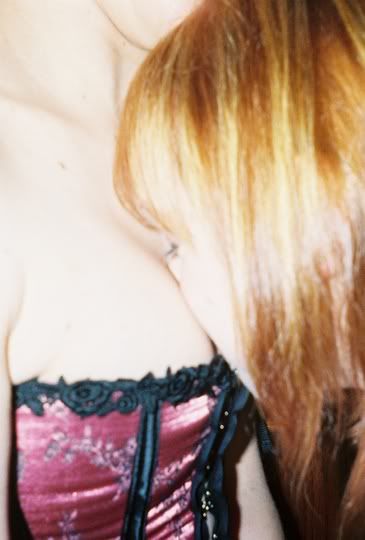 Say it ain't so. ;-)